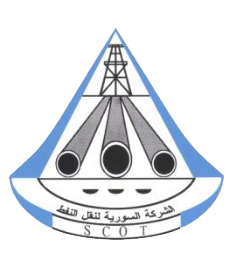 The Syrian company for oil transport (Scot ) is an affiliate company of the General petroleum corporation . It is a governmental owned company, established in 1972 and replaced the original IPC.
The Syrian company for oil transport (Scot ) is the main operator of transportation activities of petroleum from and to Syria. Scot operates tow Syrian pipeline networks. The Syrian light crude oil that starts from petroleum fields and Iraqi borderline to Banias terminal and the Syrian heavy crude oil that start from the Syrian fields to Tel Addas and ends Tartous terminal.
Both Banias and Tartous terminal handle their marine operations and activities according to port regulations and booklet.
There are basic stations T2 ,T3 ,T4, and Homs light crude oil department along the light crude oil system. The system uses gas turbines to pump the material to Banias terminal.
Moreover, There are 9 Basic electric operated pump stations to pump material to Tartous terminal . Homs heavy crude oil branch superintend the pump operation, maintenance , communication, and repair of the heavy crude oil system.
The relationship between upstream & downstream companies is regulated and held in a sophisticated way by Scot : i.e receiving material , handling it , in taking , off-taking the refineries, storage , invoicing, loading /unloading operations, witnessing , monitoring and lifing.
Since the Syrian company for oil transport operates different systems and different philosophies of operations, pumping and storage, the case has developed a variety customers who provide SCOT with the required spare parts and other different supplies according to regulations and laws in force in Syria such as Law no 5 of 2004 , law 34 of 2008 , the general book of conditions no 450 of 2004 and other concerned regulations.
It is always the optimum of Scot to manage its work, transportation, importation , handling , maintenance , and service at a unique high level of expertise , transparency and proficiency .
Safety & Environmental issues:
Consideration has been given to the likely impact of the pipeline and other operation ( on shore, offshore ) on environment.
So Scot identifies the likely environmental effects and put in practice a strict policy to keep the environment safe and clean.
Environmental considerations for onshore pipeline:
Scot realizes the following:
- Effect on local wild life.
- Effect on local population.
- Effect on areas of historical interest.
- Disturbance of surrounding soil and drainage .
- Change or scarring of landscape .
Scot takes care of all the above and keeps the pipeline system safe and environment – friendly. All the contractors who perform projects with scot have to follow same instructions.
Environmental considerations for off-shore pipeline:
For off-shore pipelines, consideration has been give to these sensitive areas SCOT realizes the following:
- Influence on local marine wild life.
- Influence on the local fishing industry.
- Risk of pollution caused by leakage.
- Effect on areas of special scientific interest .
Scot takes all necessary measurements to light pollution whatever it is and has operated pollution lighting boats for quick response to any pollution point that might happen. All sub-sea pipeline systems working are arranged to be environment – friendly.